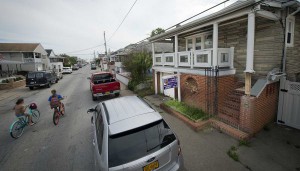 Sandy-damaged home prices slide, as other LI areas see upturn
Home prices on Nassau County's Sandy-damaged South Shore fell nearly 19 percent in the second quarter from a year earlier, even as most other parts of Long Island began to emerge from the real estate downturn.
Homes along Nassau's South Shore fetched a median price of $298,700 this spring, down from $367,500 a year earlier, according to a second-quarter report to be released Thursday by the appraiser Miller Samuel and the brokerage Douglas Elliman. The number of sales in the area fell by nearly 18 percent year-over-year, to 173.
On Suffolk's South Shore, not including the Hamptons, home prices were flat year over year at $275,000. Suffolk wasn't hit as hard by the storm.
In contrast to Nassau's South Shore, the county's northern coast posted gains this spring. The median price along the Gold Coast rose year-over-year by 6.4 percent, to $715,000, and the number of sales jumped by 15 percent, to 594.
Across Long Island, the median home price ticked up by 1.4 percent year-over-year, to $355,000, and the number of sales increased by 15 percent, to 5,281. Those figures exclude the East End.
The report uses data from the Multiple Listing Service of Long Island and other sources.
"It seems like people are buying more on the middle of the Island now, or more on the North Shore," said Jason Schlomann, a West Sayville-based associate broker with Charles Rutenberg Realty. "Anything not on the water seems like it's moving quicker."
The effects of the Oct. 29 superstorm were twofold, said Jonathan Miller, chief executive of Miller Samuel. First, a stigma has settled on the storm-damaged areas, with potential buyers nervous about getting hit by another severe storm.
In addition, homeowners face increased costs due to higher insurance premiums, more difficulty getting loans, the need to rebuild, and the likelihood that municipal tax revenue will decline as property values fall, Miller said.
"Many were too optimistic that this would last a quarter or two and it would be over," Miller said. It is likely to take a year or two for the South Shore's housing market to stabilize, and that's if there are no more major storms, he said.
Another devastating storm, he said, "would likely imply greater long-term costs and an extension of that stigma."
Lori Chaplin is among the Nassau South Shore homeowners who have seen sharp drops in sale prices. She and her husband listed their waterfront home in Massapequa for $699,000 last October. A few weeks later, Sandy swamped the home. Now they're asking $350,000. A young couple signed a contract to buy the home, but the deal fell through last month when they couldn't get a construction loan, Chaplin said. Now the Chaplins plan to demolish the home.
"The land alone is worth $347,000," Chaplin said. "It's waterfront property. We just want to get the right person to come in, probably with cash, and there's not that many people with that much cash lying around."
With some homeowners still fighting to get insurance settlements, the South Shore of Nassau remains pockmarked by boarded-up homes, said Maria Aramanda, broker-owner of Gull Realty in Long Beach.
"They're not selling, unless you're getting a fire sale where builders are coming in and buying up five to 10 houses for a very, very low amount," she said.
The cost of elevating the South Shore's most vulnerable homes to make them more stormproof will be significant, said Joe Moshé, broker-owner of Plainview-based Charles Rutenberg Realty. However, those rebuilt homes are likely to get bigger and better, he said.
"The smart people will rebuild on stilts and the other people will take their chances," he said. "Ultimately, even with that expense, those areas are going to come back because they're oceanfront. It's a matter of putting in the extra money."
Schlomann expressed skepticism about whether New York's federally funded Sandy relief effort would help much. Long Island is due to get an initial infusion of nearly $194 million in federal funds to help communities rebuild.
"Saying it is one thing," Schlomann said, "and actually getting the money to homeowners is a totally different thing."
Originally published: July 24, 2013 9:51 PM
Updated: July 25, 2013 9:18 AM
By MAURA MCDERMOTT  maura.mcdermott@newsday.com
Photo credit: Newsday / J. Conrad Williams Jr. | The sales price of homes in south Nassau
that were damaged by superstorm Sandy are down about 19 percent
Via Newsday.com: http://www.newsday.com/classifieds/real-estate/sandy-damaged-home-prices-slide-as-other-li-areas-see-upturn-1.5762989